"Canoe Canada's" outfitting base is in the town of Atikokan; centrally located on the northern
boundary of 'Quetico Park'. Since 1974, we have earned the reputation as the outfitting experts
for wilderness canoe tripping in 'Quetico'. We supply the best canoes, gear, and finest trail
foods all custom packed and prepared by our expert staff.
Our outfitting base has bunkhouse or 'hostel' type accommodations for our guests to use prior
to their canoe trip departure. It houses our store, offices, mapping rooms, and packhouses.
Visitors can walk thru the interesting downtown area of Atikokan from our base. Shops,
restaurants, parks, and the local museum are all a short walk from 'Canoe Canada'.
Types of Experiences and Trips Provided
'Quetico' is a wilderness covering 4,760 square kilometers and is the pride of the Ontario
Park system. No roads, motorized travel, no floatplanes or hunting with the freedom to paddle
and camp when and where you wish attract paddlers from the world over. Abundant wildlife,
gorgeous scenery, spectacular fishing, ancient pictograph sites and Quetico's famous solitude
is the best escape of all.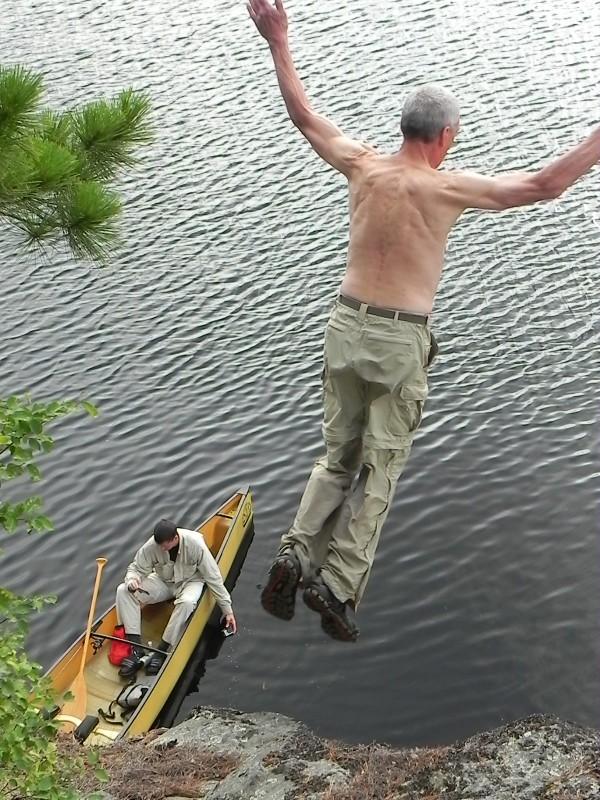 At 'Canoe Canada', we specialize in fully outfitting your wilderness vacation: you bring your
personal clothes and we supply everything else. Fully guided trips are also available or, if you
only need to rent a canoe, we do that too. For sample packages and prices, see us at
or let us customize a package to suit you.
Areas of Service and Expertise
"Canoe Canada's" guides and staff know the park intimately and share their knowledge with
clients and guests. At our outfitting base on O'Brien Street in Atikokan, we pack and prepare
visitors for canoe trips into and through 'Quetico's' 4,760 square kilometre wilderness of
'drinking water' pure lakes. Bud and Jim started the company from a love of canoeing and fishing
and that enthusiasm and passion for paddling remains key to our service today. We use vans,
trucks, and floatplanes to access all of 'Quetico's' entry points and we keep current on park
conditions. For more information on Quetico Park see their website
Locally or Family-Owned Business Notes
Atikokan residents Bud and Sandy Dickson and Jim and Pam Clark started 'Canoe Canada Outfitters' in 1973. It was important to them and their mentor, Jack McTaggart, that this Canadian tourist business be based in town; not out of town. "Canoe Canada" has always been family owned and operated and owes it's success to the many Atikokanites who have worked here as students and adults over the years. Bud's son Jeremy Dickson now leads the company.
Pet Friendly Notes
Dogs are often brought along on a canoe trip and are welcomed here at Canoe Canada. Make sure to consider the needs of your animal before including them on a wilderness vacation. Consult us for specific help and advice.